Goshen Historic Track Goshen, NY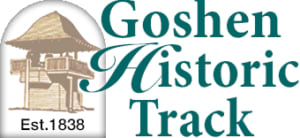 Overview
Goshen Historic Track, also known as Historic Track is a ½-mile (900 m) harness racing track located in Goshen, New York. Informal horse races have been held at Historic Track since the 1750s while the track didn't officially open until 1838.
The Historic Track is the oldest continuously operated horse racing track in North America and the oldest active trotting track in the world.
History
Informal horse races had been held along nearby Main St (now part of NY 207) since the 1750s but the current track site was first used in 1838 when a ⅓-mile (530 m) circle around a circus ground near the south end of the track was cleared and prepared for regular racing. Later it would be succeeded by an oval track perpendicular to the current one, then a long square track around the whole site, until the current track was built in 1873.
Goshen Historic Track was designated as a National Historic Landmark (#National Historic Landmark #80002735) in 1966 and was added to the National Register of Historic Places (#66000560) later in the same year. Historic Track is located in the Church Park Historic District neighborhood — a part of downtown Goshen.
On the evening of August 23, 2017 a fire burnt and destroyed some of the buildings at Goshen Historic Track. Plans to rebuild the damaged by the fire are currently underway.
Record & Speed Rating
The track record at Goshen Historic Track is 1:52.4 and was set by 3-year-old gelding Flipper J, driven by Jason Bartlett on July 1, 2011.
The Daily Racing Form (DRF) assigned Goshen Historic Track a speed rating of 12 (1:59 3/5-2:00) and a record rank of 24t.